If you're thinking of starting a handyman business, you probably have several questions about handyman insurance such as:
Do I need handyman insurance
?
What do I look for?
Where do I get it?
How much does it cost?
These are all questions I will answer in this post.
Most articles online will tell you that you do in fact need handyman insurance. However, I disagree in some cases such as when you are just starting out. When I started my handyman business, I didn't get insurance until about 4 months in.
For one, I wasn't doing enough business to justify the expense. Secondly, not a single customer asked me if I was insured.
Instead of dealing with another expense while just starting out, I decided to simply be careful while performing handyman work for customers. Since I'm just a one man band, I don't have to worry about any employees screwing things up either.
If I was to go back and do it all over again, I still wouldn't get insurance until my income could support it. So, that leads us to the question…..
Do YOU need handyman insurance?
The answer to this question is going to depend on several factors. If you answer yes to any of the following questions, it's probably a good idea to go ahead and get it.

Does your state require it?
Does your target market include apartment complexes? Eventually, you may get an apartment deal. If you are just starting out, this is unlikely unless you are strongly targeting them.
Are you planning to do any work on bank owned properties?
Are you planning on getting licensed as a contractor or handyman? I'm not currently licensed because my state doesn't require me to be. I just can't do jobs over $1,000.
Are you well established and can easily justify the expense?Do you where a helmet everywhere you go?
If you answer no to all of the following questions, you may to consider holding off. Some people will say better safe than sorry. I'm not personally big on insurance. So If you don't have to have it for the business you are going after (homeowners), save yourself the time and money and focus on something more important….Like your website.
What should you look for in handyman insurance?
In my state (and in most states) the standard is $1,000,000 of liability coverage for each occurrence with an aggregate of $2,000,000. This means that the max payout for a year is 2 million. Hopefully you won't screw that much stuff up. And if you do, hopefully you filed as a multiple member LLC or a corporation.
There is also the option to insure your vehicle on the same plan. I was advised by my insurance agent that this wouldn't really make sense. Just ask your agent and if they think this makes sense in your unique situation.
How much does it cost?
There are a lot of factors that play into this and prices will vary greatly. The best way to make sure you aren't paying too much is to deal with an insurance agent that you got through a referral or personally know and trust. The agent should get quotes from 3 or 4 companies that they underwrite for so you can see a few quotes.
My insurance policy costs me about $1,000 per year for $1,000,000 of liability insurance. Not really a big deal since I just pass this cost onto my customers. It only adds about $1/hour to my quotes.
Where do you get it?
As with everything now, you can just go online and submit your information and get quotes from your desk at home. Once great place that has cheap insurance for handymen is ACHP. However, they don't cover certain states, including Nevada where I live.
Another place you can look is for a local broker. Do a quick google search for "contractor liability insurance" or even "handyman liability insurance" and you should get several results.
If you can, I recommend asking for a referral to a good insurance agent. Talk to other contractors or handymen and ask them which agent they used and if they like them. I was referred to the agent I use and I'm really happy with the service and information I was provided. It saved me a lot of time and headache trying to research everything myself. And when I was done, I knew I made the right decision. Well worth it.
The only reason that I eventually decided to
get handyman insurance
is I was meeting with a couple of apartment complexes. I didn't end up getting the apartment deals because it didn't make sense long term. But, the day after I got the insurance, I got a job for a bank owned property and they did require insurance.
Powered by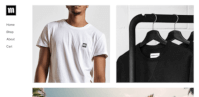 Create your own unique website with customizable templates.